Posts for tag: crowns
By Tenafly Family Dental
February 27, 2019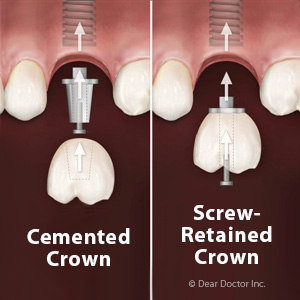 If you've lost a tooth, you have a number of options for replacing it. Perhaps the best choice in terms of lifelikeness and durability is a dental implant.
All implants have the same basic architecture: a titanium metal post imbedded in the jawbone to replace the root; and an abutment, a metal collar that links the post with a lifelike porcelain crown. But implants can vary in how the crown attaches to the abutment and post — either cemented to the abutment or screwed through the abutment to the post.
Either method will permanently secure the crown to the implant. But there are advantages and disadvantages for each.
A screw-retained crown may better facilitate any future repair that might be needed. For a skilled dentist it's a simple matter of removing the screw and then the crown from the abutment. There's less risk of damage to the implant during repairs or crown replacement. Many dentists also prefer screws for crowns placed at the same time they're installing the implant post (a procedure called immediate loading).
The screw access hole, however, could pose a cosmetic problem. Although we can cover it over with tooth-colored filling, it may still be noticeable and unattractive especially for a tooth visible when you smile (in the smile zone). There's also the possibility the porcelain around the access hole could chip.
By contrast, cemented crowns have a smooth, unbroken surface and are aesthetically ideal for smile zone teeth. But the cement could interact poorly with gum and bone tissue in some patients, causing inflammation and possible bone loss.
And unlike screw-retained crowns, cemented crowns are difficult to remove for implant repair. We may have to drill through the crown to access the screw between the abutment and the post, and then repair it cosmetically if we use the same crown. Again, the final result may not be quite as visually appealing.
In the end, it will depend on the implant's location, how your body reacts to the cement or your dentist's preference. In either case, though, you'll have a tooth replacement that's functional, life-like and able to endure for many years to come.
If you would like more information on dental implants, please contact us or schedule an appointment for a consultation. You can also learn more about this topic by reading the Dear Doctor magazine article "How Crowns Attach to Implants."
By Tenafly Family Dental
October 10, 2018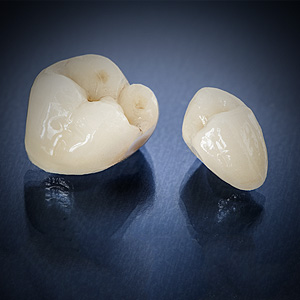 Repairing a decayed tooth may be as simple as removing the damaged tooth material and filling the void. Many filling materials can now match the color of a tooth, so the dental work is hardly noticeable.
Sometimes, though, the decay is too extensive or we've treated the tooth several times and it won't support another filling. If the tooth is still viable, we may be able to cover it with a custom crown.
Also known as a cap, a crown fits over and is securely affixed to the tooth with bonding material or cement. Crowns have been used for decades to restore teeth, but the materials they're made of have changed with time.
The original crowns were made of metal, usually gold or silver. They were strong and could hold up well to the daily forces produced by chewing or biting. They did, however, visually stand out and came to be regarded as unattractive. There were porcelain materials available that could closely mimic the life-likeness of teeth, but they could be weak and brittle.
Dentists came up with a hybrid crown that could supply strength as well as an attractive appearance. These were composed of two parts: an inner metal frame for strength overlaid with porcelain for appearance. These fused crowns were the most popular until the mid-2000s.
About that time, newer forms of porcelain came on the market that were not only attractive, but also durable. Although caution should still be taken when biting something hard, they've proven to stand up well to biting forces. Fused porcelain to metal is still in use, but usually for back teeth where biting forces are higher and the crown won't be as noticeable as on front teeth.
Crowns can also address cosmetic issues with chipped, fractured or excessively worn teeth. But with any crown you should be aware that much of the original tooth material must be removed to accommodate the fit. The altered tooth will require a crown or other restoration from then on. Crowns must also be custom-made by a dental technician in a process that can take weeks.
Still, the process can be well worth it. With proper care and maintenance, a crown could serve you and your smile well for many years to come.
If you would like more information on crowns and other restoration options, please contact us or schedule an appointment for a consultation. You can also learn more about this topic by reading the Dear Doctor magazine article "Crowns & Bridgework."
By Tenafly Family Dental
May 23, 2018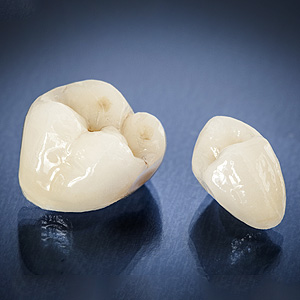 All crowns are designed to restore functionality to a damaged tooth. But crowns can differ from one another in their appearance, in the material they're made from, and how they blend with other teeth.
A crown is a metal or porcelain artifice that's bonded permanently over a decayed or damaged tooth. Every crown process begins with preparation of the tooth so the crown will fit over it. Afterward, we make an impression of the prepared tooth digitally or with an elastic material that most often is sent to a dental laboratory to create the new crown.
It's at this point where crown composition and design can diverge. Most of the first known crowns were made of metal (usually gold or silver), which is still a component in some crowns today. A few decades ago dental porcelain, a form of ceramic that could provide a tooth-like appearance, began to emerge as a crown material. The first types of porcelain could match a real tooth's color or texture, but were brittle and didn't hold up well to biting forces. Dentists developed a crown with a metal interior for strength and a fused outside layer of porcelain for appearance.
This hybrid became the crown design of choice up until the last decade. It is being overtaken, though, by all-ceramic crowns made with new forms of more durable porcelain, some strengthened with a material known as Lucite. Today, only about 40% of crowns installed annually are the metal-porcelain hybrid, while all-porcelain crowns are growing in popularity.
Of course, these newer porcelain crowns and the attention to the artistic detail they require are often more expensive than more traditional crowns. If you depend on dental insurance to help with your dental care costs, you may find your policy maximum benefit for these newer type crowns won't cover the costs.
If you want the most affordable price and are satisfied primarily with restored function, a basic crown is still a viable choice. If, however, you would like a crown that does the most for your smile, you may want to consider one with newer, stronger porcelain and made with greater artistic detail by the dental technician. In either case, the crown you receive will restore lost function and provide some degree of improvement to the appearance of a damaged tooth.
If you would like more information on porcelain crown, please contact us or schedule an appointment for a consultation.