Posts for tag: dental injury
By Tenafly Family Dental
August 11, 2018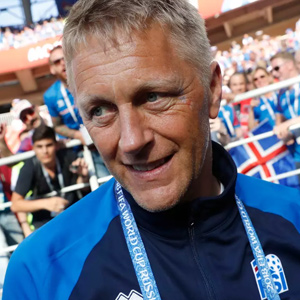 If you followed the 2018 FIFA World Cup Soccer games, you probably know that one of this year's biggest surprises was the debut of the team from Iceland—the smallest country ever to earn a chance at the sport's top prize. But here's something you may not have known: When he's not on the field, the team's coach, Heimir Hallgrímsson, is a practicing dentist! Those two skill sets might not seem like a natural fit… but they came together dramatically at a recent contest.
At a local women's game last summer, when a player was hit and her tooth was knocked out, Dr. Hallgrímsson took immediate action. "I jumped on the pitch and put the tooth back in, took her to a dental office and fixed it," he said.
Not everyone has the special training or ability to fix a tooth that has been damaged or knocked out—but there are some simple things that you can do to help an adult who has suffered this kind of injury. Here's a quick run-down:
After making sure the person is stable and not otherwise seriously injured, try to locate the tooth.
Handle it carefully, without touching root surfaces, and clean it gently with water if possible.
Try to open and gently rinse out the mouth, and find where the tooth came from.
Carefully place the tooth back in its socket, making sure it is facing the right way, and hold it in place with a soft cloth.
If the tooth can't be re-implanted, place it in a bag with a special preservative solution, milk or saliva, or have the person hold it between the cheek and gum—but make sure it isn't swallowed!
Rush to the nearest dental office or urgent care facility.
When these steps are followed and the person receives professional treatment as quickly as possible (ideally within minutes), their tooth will have the best chance of being saved. But even if it isn't possible to preserve the tooth, receiving prompt and appropriate care can make replacing the tooth much easier.
Having Dr. Hallgrímsson on the sidelines was a lucky break for the injured soccer player—and as a coach, just getting to the World Cup is a remarkable achievement. But you don't need to be a coach (or a dentist) to give first aid in a dental emergency. Taking the right steps can help ensure the best possible outcome… and might even save a tooth!
If you would like more information about emergency dental treatment, please contact us or schedule an appointment for a consultation. You can learn more by reading the Dear Doctor articles "Knocked Out Tooth" and "The Field-Side Guide to Dental Injuries."
By Tenafly Family Dental
March 29, 2018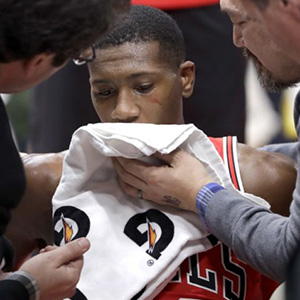 For lots of sports fans, March is the month to get caught up in basketball "madness." But many people forget that basketball—whether it's played on a school court or a big-city arena—can be just as dangerous for your teeth as some "full-contact" sports. Just ask Chicago Bulls point guard Kris Dunn. In the last three minutes of the January 17 NBA game between the Bulls and the Golden State Warriors, Dunn stole the ball and went in for the dunk. But the momentum from his fast break left him tumbling head-over-heels, and his face hit the floor.
The game stopped as Dunn was evaluated by medical staff; they found he had dislocated his two front teeth. The next day, the Bulls announced that his teeth had been stabilized and splinted—but Dunn would be out indefinitely because of a concussion.
Teeth that are loosened or displaced are known in dental terminology as luxated. These are fairly common dental injuries in both children and adults—but surprisingly, they don't always produce painful symptoms. Treating luxated teeth generally involves repositioning them and then splinting them in place for stability. Depending on the severity of the injury, the outlook for splinted teeth can be quite favorable. However, it may involve several treatments over a period of time—for example, a root canal if the tooth's inner pulp has been damaged, and possibly additional restorative or cosmetic work.
If the injured teeth can't be saved, they can usually be replaced by dental implants or a bridge. Bridges rely on adjacent teeth (also called abutment teeth) for their support. These teeth must be prepared (reduced in size) to accommodate the dental crowns that will hold the bridge in place, as well as the ones that will replace the missing tooth or teeth. Dental implants, today's gold standard of tooth replacement, are supported by root-like inserts made of titanium that are set directly into the jawbone. These dental implants support lifelike crowns that look and feel like natural teeth, and can last for years with routine care.
Better still, many dental injuries can be prevented by wearing a protective mouthguard. We can provide a custom-fabricated mouthguard, made from an exact model of your bite, which offers the maximum in comfort and protection. This is a vital piece of safety equipment that should be part of every sports enthusiast's gear.
With good dental care, it's a sure bet that Kris Dunn will be smiling when he returns to the court. We wish him a speedy recovery.
If you have questions about treating injured teeth or obtaining a custom mouthguard, please contact our office or schedule a consultation. You can read more in the Dear Doctor magazine articles "Trauma and Nerve Damage to Teeth" and "Athletic Mouthguards."